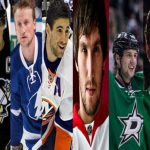 ---
NHL 17: Who will be featured on the cover?
We are all curious to know who will be featured as NHL 17 cover athlete. As it is not officially announced yet, we can only predict who it will be. So we made a list of possible NHL 17 cover athletes. Take a look!
Carey Price. He is an awesome goaltender of Montreal Canadiens of NHL. Carey Price most remarkable performance was back in 2007 where he won the Del Wilson Trophy and CHL Goaltender of the Year. He also became the top goaltender in the Western Hockey League (WHL). Carey Price would be a great option for NHL 17 cover.
Sidney Crosby. Another Canadian player, captain of the Pittsburgh Penguins. He is probably the best draft pick in Hockey history. Sidney Crosby showed amazing performance during his first season with 102 points and he was the runner up of Calder Memorial trophy. He also made a remarkable second season with 120 points and owns the Art Ross Trophy.
John Tavares. Captain of New York Islanders, sensational Canadian ice hockey player. From the age of fourteen, he was given the exceptional player status and also he presented Canada at International Ice Hockey federation (IIHF) five times during his career. He reached a record of 215 goals in 2009 so John Tavares could definitely be the NHL 17 cover star.
Steven Stamkos. Team captain of the Tampa Bay Lightning, NHL's leading goal scorer. He won Maurice Richard Trophy twice and was recently named to NHL All Star Games for the third time. This exceptional player would be a great pick for NHL 17 cover.
Alex Ovechkin. Ice Hockey winger from Russia, captain of Washington Capitals of the NHL could be on the cover of NHL 17. He already won the annual Calder Memorial Trophy, Rocket Richard and Art Ross Trophies.
Tyler Seguin. Outstanding ice hockey player from Canada, Dallas Stars team. Tyler Seguin won the Stanley Cup and was traded by the Bruins to the Dallas Stars back in 2013.
Jamie Benn. Canadian ice hockey player, captain of the Dallas Stars, possible choice for NHL 17 cover. He won the Art Ross trophy.
Clause Giroux. Canadian player, captain of Philadelphia Flyers, could also be featured on NHL 17 cover.
Who you think should be featured on NHL 17 cover? Have your say in the comments section below.