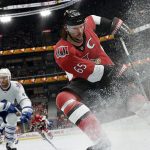 ---
NHL 17 Features Wishlist (for PS4 and Xbox One)
We all love playing NHL 16 but there still are some things that need to be improved in this version of the game. So while waiting for the upcoming NHL 17 game fans have some hopes and expectations regarding the game improvements. We expect that the newest chapter of NHL series will be released only for PS4 and Xbox One as NHL 16 was released for the newest consoles only (PS4 and Xbox One), with a special NHL Legacy edition for PS3 and Xbox 360 consoles.
So let's take a look at NHL features wishlist:
Remaking Be a Pro mode. There are some things that could be done to make NHL 16 Be a Pro mode a lot better in NHL 17. To name a few, this game mode could have full improvisation as EA developers could try to make it more like NBA 2K where you have the full control of your player. This game mode is really great but some improvements are awaited by NHL fans to make it more realistic in NHL 17.
Improvements for Be a General Manager (BAGM) mode. NHL game fans suggest that EA team could include more media in BAGM mode. It could be animations or a text box; the game mode could include the options of hiring and firing coaches, creating big trades, signing and results too.
New stuff added to Be a Pro (BAPRO) mode. EA developers' team could return the pre-draft interviews in NHL 17 which are being missed by many NHL series fans. There could also be numbers of mini-games included in NHL 17. For instance, this could be like a training camp where players could be evaluated and practice mode based on their performance. Also, there should be ability for NHL 17 players to accept or reject a new entry-level deal.
Adding 5 players to goal celebration. Hockey is a team mode where big teams reach big goals and to be sincere, only two players celebrating the goal look quite ridiculous. EA team should consider adding like 5 players to the goal celebration to make it more realistic in NHL 17.
Fixing up AI. There are lots of good things to mention regarding the AI in NHL 16 but some things could still be improved. For example, EA developers team could improve skate zone so that the players in NHL will not get stuck or have to skate back to the middle.
What do you think about these improvements of NHL 17? Tell us in comments section below!